Fox Property
The Fox property is located approximately 70 kilometres northeast of 100 Mile House in the south Cariboo region of British Columbia, Canada. With among the highest tungsten grade resource in the western world and seven mineralized zones in a 10 km by 3 km mineral system the Fox property represents an important new tungsten prospect. The Company has taken this 100% owned project from a very early stage to NI43-101 compliant indicated and inferred resources and continues to expand the resource potential with exploration. Other metals such as zinc, indium, bismuth, gold and silver occur with tungsten that are not included in the resource. The project is thought to be at a threshold for development and data collection for engineering, environmental and permitting studies have and planning for more advanced development stages is underway.
FOX PROPERTY FACTS
| | |
| --- | --- |
| Property | 13,589 Hectares or 135.9 square kilometres of mineral tenure |
| Ownership | 100% Happy Creek Minerals Ltd. since 2006 |
| Key minerals present | Tungsten, molybdenum, zinc, indium, gold and silver |
| Location | 70 km northeast of 100 Mile House, south central British Columbia, Canada |
| Access | Via paved and gravel roads from town of 100 Mile House and village of Forest Grove |
| Closest mine | Former Boss Mountain molybdenum mine- approximately 30 km to the west. |
| Surveys completed | Prospecting, geology, geochemical, geophysical, trenching |
| Drilling - Totals | 19,734m in 176 holes in 5 separate zones |
| Project Stage | Exploration-resource drilling, mineral processing/metallurgy, engineering/economics, permitting |
| Services | 45 min drive to asphalt road, Village of Forest Grove and town of 100 Mile House provide most services required. |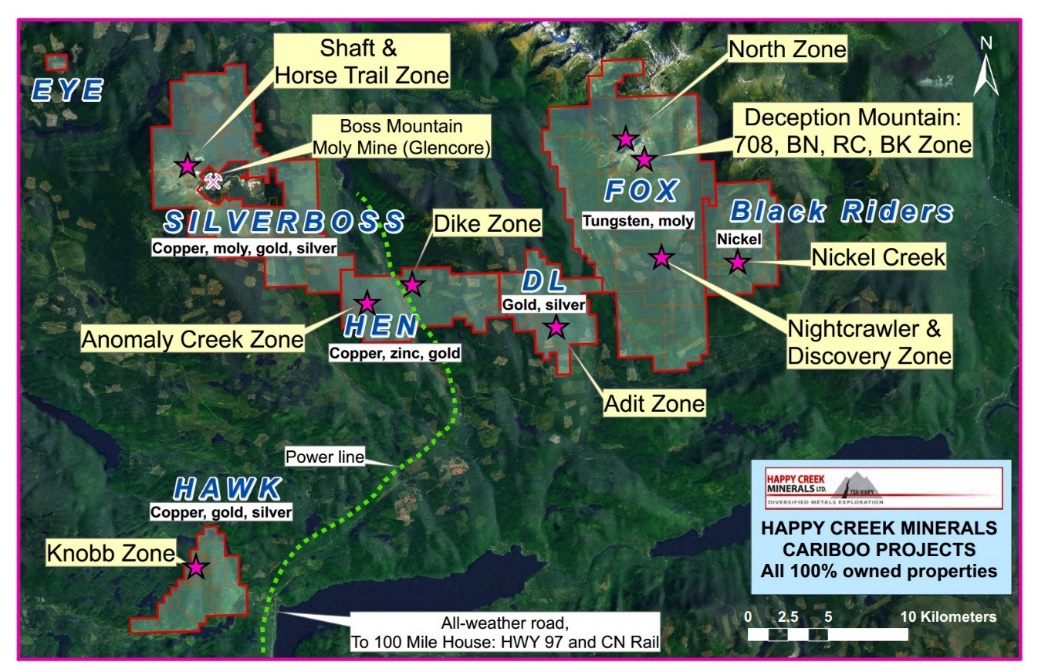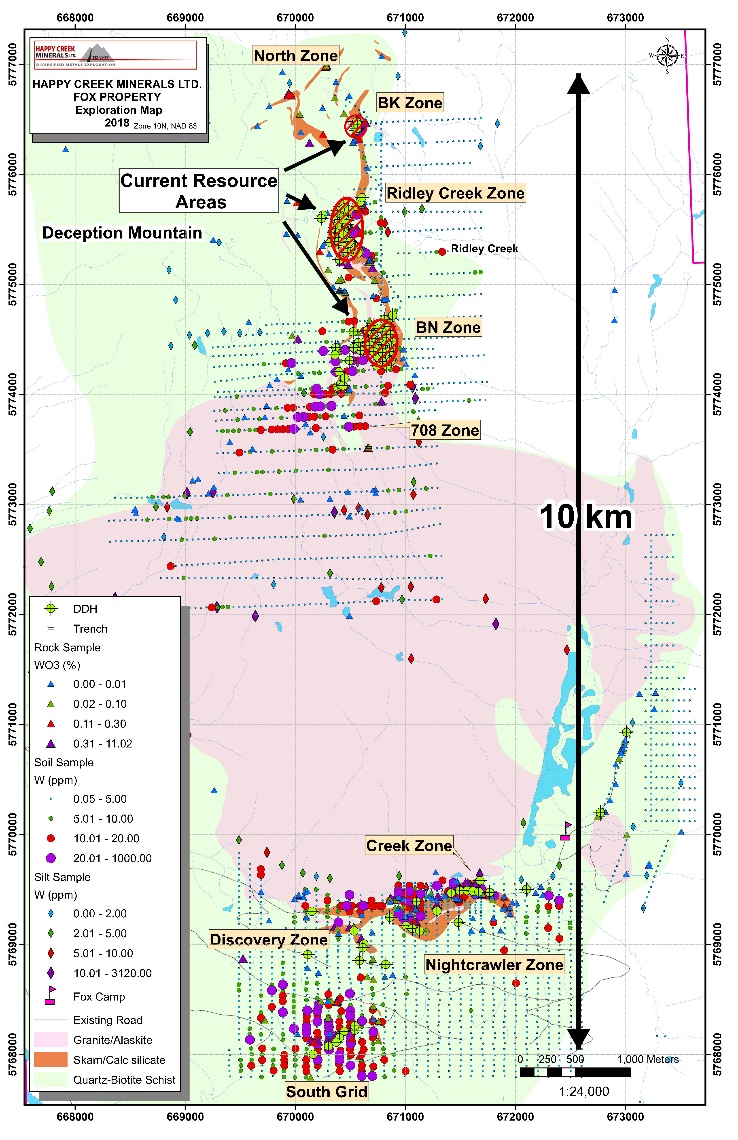 The tungsten mineral system is overall 10 km by 3 km in dimension, centred around a composite monzogranite intrusive with younger cross cutting dikes and sills, alaskite in composition. The Nightcrawler-Discovery and South Grid areas occur on the south side of the monzogranite, and on Deception mountain, from south to north respectively, five outcropping zones (708, BN, RC, BK and North zones) occur over a three-kilometre distance. These zones all have positive tungsten values in outcrop and/or drill core, and all zones are open in extent.

Scheelite (Calcium tungstate) mineral fluorescence is bluish-white under Ultra Violet light.
Project History
1997 - 1999: Prospecting of new logging roads identified favorable intrusive and calc-silicate rocks. Molybdenum first identified at Discovery zone followed by positive tungsten in assays.
2000 - 2004: Privately funded prospecting, soils, silts, UV lamping. High grade boulders (moly and tungsten) found at the Discovery zone then to the east at the Nightcrawler zone. Similar geological setting and positive stream sediments located on Deception Mountain 4 km to the north.
2005 - 2010: Happy Creek acquires property and conducts larger scale prospecting, geochemistry and geology. Trenching and wide-spaced drilling at Nightcrawler zone gives positive results in an area 1.5 km X 500 metres in dimension. Trenching on Deception Mountain returns 2 metres of 5.0% W03 (Ridley Creek (RC)), 7.25m of 1.25% W03 (BK), and 1.0m of 4.66% W03 metres (BN) in three zones over 2.0 km.
2011 - 2013: In 2011, drilling at RC zone intersected 5.2metres of 0.91% W03, 4.7m of 1.02% W03, and 12.4m of 0.74% W03, which are considered the "Discovery" point for the project. Under increasingly difficult market conditions, globally top-tier results include 26m of 1.2% W03 at RC and 14.8m of 4.0% W03 at BN. With limited funding available, only the RC zone was selected for additional drilling. A LiDAR topographic survey and additional geology was completed.
2014 - 2015: Airborne geophysics, geological mapping, sampling. Geochemical survey identifies large South Grid target. The North zone was better defined at surface and addition zones of tungsten located. In 2015, drilling at the Nightcrawler Creek zone returns 5m of 1.0% W03 and the favorable geology containing tungsten values extended another 450 metres further east. More detailed deposit modelling, metallurgy studies undertaken.
2016: Drilling and updated resources for Ridley creek zone. Drilling increases information at BK zone and returns 6.0 m of 0.67% WO3. Trench and chip sampling at Ridley creek and BK zone. A conceptual process flow sheet and metallurgical studies return positive results.
2017 Drilling and updated resource for Ridley Creek, BN and BK zones. Geological mapping on Deception Mountain further refined contacts and extent of the favorable calc-silicate unit. Prospecting and hand trenching locates new tungsten showings along strike to the south of Ridley Creek, and in calc-silicate layers above Ridley Creek and BK zones. At the 1.5 km by 500m South Grid target, drilling returned several intercepts above cut-off grade and near-surface that are thought to represent good potential for a new deposit.